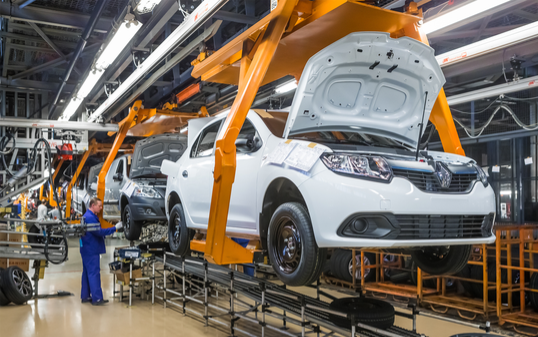 Industrial Internet of Things (IIoT), Industry 4.0 and Smart Manufacturing have started revolutionizing automotive component manufacturing, assembly lines and quality assurance. EcoAxis' smart manufacturing solutions enables automotive manufacturers to monitor their manufacturing processes in terms of various parameters such as quality, downtime, wastage analysis, operator performance, energy and consumables benchmarking. Advanced analytics and reporting now enables monitoring performance across assembly lines, body shops, and special purpose machines to provide actionable insights to the right person at the right time on the right medium.

Analytics for (CNC, VMC and SPMs)
Availability, performance & quality
Downtime analysis
Maintenance analysis
Production in no. of units or weight
Actual vs Planned production
Mean time between failure (MTBF)
Mean time to repair (MTTR)

Assembly Line
Station-wise statistical analysis for time taken to finish operations

For automotive model
For shift
For operator

5 slowest and fastest station analysis
Maintenance analytics

Process, Quality & Job
Rejection analysis
Quality analysis
Wastage analysis
Benchmarking of operator & machine performance
Shop floor & manager alerts and notification against deviation.

Resources/Utilities
Specific energy consumption
Electrical energy consumption
Utility consumption analysis
Lubricants consumption analysis
Benchmarking of resource consumption against respective product.