Copper & nickel controllers from Walchem that reduce the need for manual titration, improves yield, and in microetch applications, improves productivity by reducing the frequency of bath change-outs.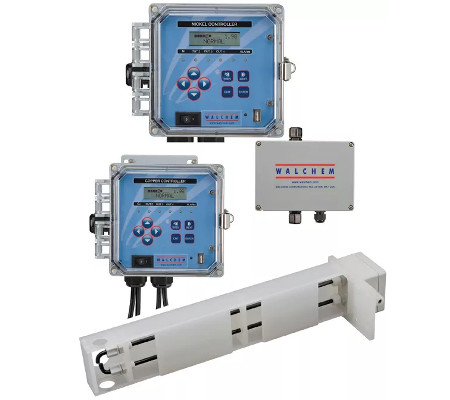 WNI/WCU
(Copper and Nickel controllers)
Walchem's WCU410 Copper Controller and WNI Nickel Controller are optoelectronic online analysers that measure the actual concentration of copper or nickel in solution. They are used in a variety of applications including electroless plating baths and microetch baths (including oxide-replacement types).
Manufactured by: Walchem Corporation, USA
FEATURES

RESOURCES

GET A QUOTE
Technical Details
Cu range: 0.01-99 g/l
Range: WNI/WCU
Ni range: 0.01-10 g/l
Material of construction: WNI - polypropylene with plexiglass window; sensor - ABS, polyethylene, glass, FKM; display - 2 x 16 character backlit liquid crystal
pH range: 0-14
Applications
Copper plating
Nickel plating
Key Features
Used in electroless plating and microetch baths
Measures the actual concentration of copper or nickel in solution
Concentration read in units
Simple, integrated data collection
Operator adjustable
Four separate control relays and outputs (WCU)
Your message was sent successfully. Thanks.