HMX energy-efficient cooling solutions – a big hit at India Warehousing Show 2017
At the recently concluded India Warehousing Show 2017 (27-29 July 2017), HMX showcased its innovative energy efficient cooling solutions to the ever-growing warehousing industry.
HMX showcased the following IEC (Indirect Evaporative Cooling) based air cooling units and hybrid air conditioning solutions:
HMX-Ambiator: It is an energy-efficient two-stage cooling solution, which uses HMX's patented indirect direct evaporative cooling technology to deliver air cooled below the concurrent atmospheric wet bulb temperature.
HMX-IEC: This is an innovative, sensible (without addition of moisture) cooling system for space and process cooling. The HMX-IEC uses HMX's DAMA module to provide 100% freshclean-cool air.
HMX-DMA: HMX-DMA uses a combination of indirect direct evaporative cooling and air-conditioning for once-through applications.
HMX-FAAC: It's an all-weather climate control system; a revolutionary concept that brings together the best of both worlds of indirect direct evaporative cooling, and refrigerated air-conditioning.
HMX's stall drew a large number of footfalls, and the visitors showed keen interest in the technologies and solutions exhibited.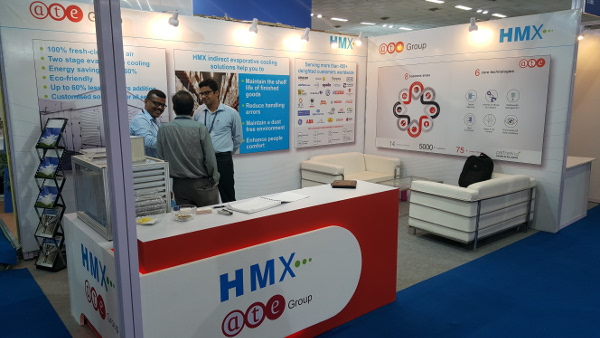 The HMX solutions are well proven with successful installations in companies like Amazon, Big Basket, Flipkart, Himalaya Pharmaceuticals and Intas Pharma. HMX has the world's largest installed base of 35 million CFM in IEC solutions, cooling more than 7 million square feet of area.
HMX, a business unit of the A.T.E. group, designs and manufactures energy efficient and eco-friendly products for space and process cooling based on the Indirect Evaporative Cooling (IEC) technology for the industrial and commercial spaces. HMX's cooling solutions include Indirect Direct Evaporative Cooling, pre-cooling of fresh air for air-conditioned spaces and hybrid air-conditioners.
The India Warehousing Show held at Pragati Maidan, New Delhi, from 27 - 29 July 2017 and attracted people not only from supply chain, logistics, and warehousing but also from industries such as automobile, engineering, electronics, pharmaceutical, retail, as well as builders, civil constructors, HVAC consultants and others. With over 200+ exhibitors and more than 7000 visitors, the India Warehousing Show brought together a large number of stakeholders from around the world.