It ensures the complete and accurate ink transfer onto paper, carton or film surfaces in gravure printing, safely avoiding missing dots especially in the light and middle tone ranges. It also allows the printing density to be enhanced to some extent.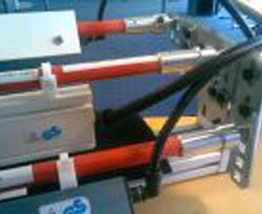 Eltex Electrostatic Printing Assist
The Eltex electrostatic printing assist, ESA for short, is based on the principle of the plate-type capacitor. This means that a homogeneous electric field is generated between two plates, in which a dielectric is pulled to one side. The electrostatic printing assist applies this principle in the nip-at precisely the point where the ink is to be transferred onto the web. This principle of ink transfer with electrostatic support works evenly over the entire width of the web and operates reliably from the slowest to the highest production speed. These units ensure optimal printing results and regular color density in all grading ranges, especially in light and middle tones. It offers improved print results also on difficult printing paper substrates, cardboards, and films at faster production speeds. Longer service life of the impression roller coatings through reduced impression roller line pressure.
Manufactured by: Eltex Elektrostatik GmbH, Germany
FEATURES

BENEFITS

RESOURCES

GET A QUOTE
Key Features
Nip voltage (300-1,000 V DC) causes accurate ink transfer from the cells to the substrate and without any high impression roller pressure
A 2-layer impression roller is used for the ESA GNH61 system. The accurately defined coating ensures that the charge in the printing nip is distributed evenly
Improved printing quality (eliminating missing dots)
Higher production speed
Less wear on the impression rollers by reducing the mechanical contact force
Suitable for use with any currently available solvents such as: toluene, spirit-water mixture, water
Your message was sent successfully. Thanks.