McClelland's thermic fluid heaters make the optimal use of the calorific value of plastic and film waste to heat thermic fluid.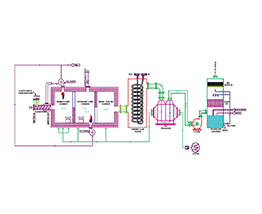 McClelland Waste-fired Thermic Fluid Heater
Operating at temperatures of over 900°C, McClelland thermic fluid heaters use waste (film and laminates) to heat thermic fluid - recovering up to 0.6 M kcal of heat per hour. McClelland waste-fired heaters are designed to save space, reduce heat loss, and improve heat gain while minimising ash formation. These easy to use thermic fluid heaters require minimal maintenance and can be operated by a semi-skilled operator.
Manufactured by: McClelland Incineration Technologies, India
FEATURES

BENEFITS

GET A QUOTE
Technical Details
Operating temperature: 900°C
Heat recovery: 0.15 to 0.60 M kcal/hr
Auxillary fuel connected load: 8 to 20 kg/hr (during start up)
Feed rate: 25 to 100 kg/hr
Feed: plastic/film waste, size 25-40 mm
Auxiliary fuel: furnace oil/CNG
Combustion air blower: 1700 m3/hr, centrifugal type with static pressure of 3 mm of water column
Key Features
Furnace designed for proper turbulence and with bubbling air distributors to achieve total combustion
Heat exchanger coil fitted on furnace
Vertical design of thermic fluid heater leading to space saving
Optimal utilisation of the calorific value of plastic/film waste
Maximum amount of heat is recovered from flue gases
Air pre-heater also reduces flue gas temperature at induced draft fan ensuring lower power consumption and higher life of induced draft fan
Balance draft system ensures minimum infiltration of unwanted air through doors
Fresh air passes through air pre-heater ensuring maximum fuel to heat operating efficiency
Waste feeding automated in sync temperature
Used for all types of films and laminates in flexible packaging industry
Ease of operation - semi-skilled operator adequate
Low operating cost and minimal maintenance
Optimal utilisation of the calorific value of plastic/film waste
Prevents heat loss
Faster flow heat temperature gain
Minimum ash formation
Your message was sent successfully. Thanks.