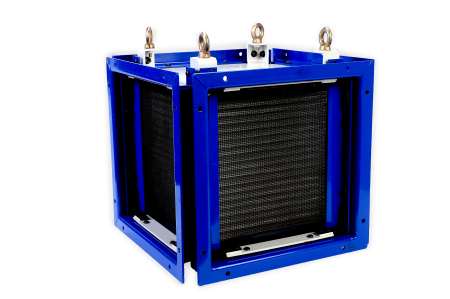 LAMIFLOW Heat Recovery System
(Flat-plate, air-to-air heat exchanger)
Processes in the flexible packaging industry use a considerable amount of heat. Optimising this heat energy by recovering waste heat can reduce costs and thus significantly increase a convertor's bottom line and hence an attractive investment option.
The Lamiflow is a flat plate air-to-air heat exchanger where two air streams (exhaust and fresh air) cross each other, without coming in contact. The heat exchanger comprises multiple, thin, slightly separated plates with large surface areas that allows air flow passage for effective heat transfer, with minimal pressure drop.
The sensible energy from warm exhaust air is transferred to the relatively cooler inlet air, without any mixing of the two air streams. This enables savings in energy spent to heat up fresh air from ambient temperature to the required temperature.
Manufactured by: Valence Electrons Private Limited
FEATURES

BENEFITS

RESOURCES

CASE STUDIES

GET A QUOTE
Key Features
Minimal pressure drop
Non-contact type heat exchanger – the inlet and exhaust air streams do not mix with each other
Flat plate air-to-air heat exchanger
Working temperature up to 200ºC
Recovers thermal energy that was hitherto wasted to pre-heat fresh air
Provides operational savings, has attractive payback periods
Solution can be tailor made to specific processes
Your message was sent successfully. Thanks.