Manufactured by Zimmer Maschinenbau GmbH, Austria, the ChromoJET digital printer is known for its deep colour penetration and excellent print fidelity. Zimmer's ChromoJET digital printers are custom-built from standardised elements in order to keep the manufacturing cost down and to give the customer short payback time due to a high R.O.I. factor. All machine models are especially designed for fast design changes, shortest possible colour ways, and non-stop production.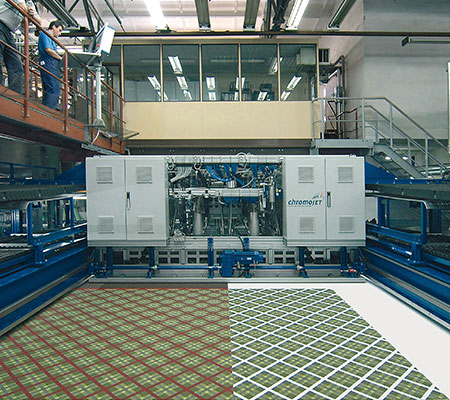 ChromoJET Printing Machine
ChromoJET is a printing system using high speed valves which are computer controlled. The pre-mixed pressurised spot colours are injected with high precision deep into the face of the pile without any machine parts touching the fabric. Deepest colour penetration and excellent print definition are the result. The ChromoJET's production speed is almost proportional to the number of jets used per colour – more jets offer higher production speed.
Manufactured by: J. Zimmer Austria
FEATURES

BENEFITS

GET A QUOTE
Key Features
Deepest colour penetration
Excellent print definition
High resolution
No limitation on pattern repeat
Technical details
Application range: ChromoJET printer for rugs, wall to wall carpets, carpet tiles, mats, runners, logos, promotion mats, carpet for contract and hospitality market
Game and play carpets for floor and tables, seat covers, car carpets, club rugs and mats
No screen – no limitation in pattern repeats
Design change on the fly
Full penetration
Pile weight from 250 up to 1,500 g/sq metre, for PA, wool, acrylic and PES
High resolution prints
Complete print line from one supplier
Your message was sent successfully. Thanks.