The SCHWING InnovaClean is a Fluidised Bed Pyrolysis system suitable for the thermal cleaning of all polymers from metal parts used in moulds and dies for synthetic and nonwoven industry including PVC, PTFE, PEEK, and the like.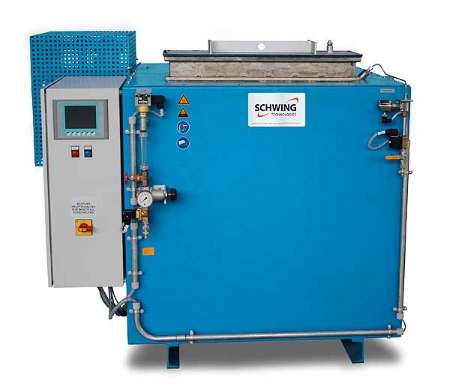 InnovaClean
(Fluidised Bed Pyrolysis System)
SCHWING's InnovaClean makes use of fluidised bed combustion to carbonise any polymer without residues within one to two hours. The parts to be cleaned are loaded in a basket which is then submerged into the hot fluidised sand. Any gas produced as a by-product is burnt in the integrated combustion chamber. The InnovaClean's rapid cleaning process can be precisely controlled and utilises the material and heat transfer of a fluidised bed of ThermClean sand. The high temperatures (ranging between 450°C to 520°C) and low particle speeds of the fluidised bed ensure that the product to be cleaned is freed from the plastic quickly and without any mechanical or thermal interference. Parts like injection nozzles, die plates, spin nozzles, assembled spin packs, and many others can be cleaned effectively.
Manufactured by: Schwing Technologies, Germany
FEATURES

BENEFITS

RESOURCES

GET A QUOTE
Very short cleaning time
Also suitable for PVC, PTFE, PEEK
No mechanical or thermal damage to parts
Integrated off-gas cleaning
Free of carbon residues
Only gas, electricity, and water required
Eco-friendly; water discharged is clean
Perfect cleaning results
More cleaned parts per day
For all polymers and plastics
Gentle on material
Medium operating and maintenance costs
Your message was sent successfully. Thanks.