Yichang's new twisting technology ensures a high degree of integration and automation. These machines are widely used in various fields including textiles, tyre cord fabrics, carpets, rope & nets, glass rovings, etc.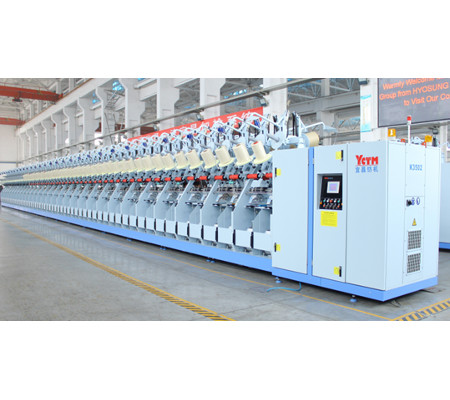 Twisting Systems
(For all kinds of fibres)
Yichang Jingwei Textile Machinery Co., Ltd. produces various kinds of twisters that are suitable for cotton twisting, twisting top grade sewing thread and top grade dress cloth, K3501 series tyre cord direct cabler that are suited for twisting tyre cord fabric, canvas, conveying belt, rope and net belt, K3521 and K3522 suited for twisting artificial greensward, the K3701 multi-ply twister, K 3702 lawn yarn twister, K2772 precision winder, K3502 carpet twister, there are CGKV548/549/550/554 series glass fibre twister that are suited for twisting glass fibre yarn.
Manufactured by: Yichang Jingwei Textile Machinery Co., Ltd., China
FEATURES

BENEFITS

GET A QUOTE
Suitable for twisting of all natural fibres, BCF yarns and synthetic filament yarns
Can be used as direct cabling and TFO twisting
Each spindle is driven by individual motor
The two sides of the machine are independent entirely, and can twist different yarn variety separately
Tension control device, capstan regulates the yarn tension precisely, consistently, and with high reliability
Group of inverters control the spindle speed, yarn overfeed, traverse motor, and take-up motor
Various parameters including spindle speed, twist per unit length, twist direction, over-feed ratio, package set length, take-up cross angle, and length can be input and displayed on the touching screen
The machine is supplied with malfunction diagnosing system which continuously inspects and controls the spindle, over-feed winding device, traverse yarn speed, and the anti-patterning device
Ethernet and production control management system facilitate remote control operation of multiple machines
Automatic doffing device
Package belt conveyor device supplied with the machine can be in the state of continuous running, and also in step running
Facility to set and control the length of tail yarn per package
Energy saving type spindle pot controls the yarn balloon shape, reduce the power consumption and noise level
Servo controlled traverse results in good package and high winding speed up to 120 m/min
Direct coupled with motor, no belt drive, maximum speed is 11000 RPM, smooth and steady running, no wear and tear
The diameter of finished package can be up to 400 mm, so the reduced loading frequency and improved the production efficiency
Your message was sent successfully. Thanks.