SCHWING's VacuClean is an automatic thermal cleaning system to clean polymers from metal parts used in moulds and dies for synthetic and nonwoven industry such as spinnerets and different parts of the spin pack. This automatic thermal cleaning system requires manual intervention only during loading and unloading. The timer of the VacuClean can be set according to the polymer load. Low pressures of down to 220 mbar can be achieved, which prevents fires or damage to the parts being cleaned.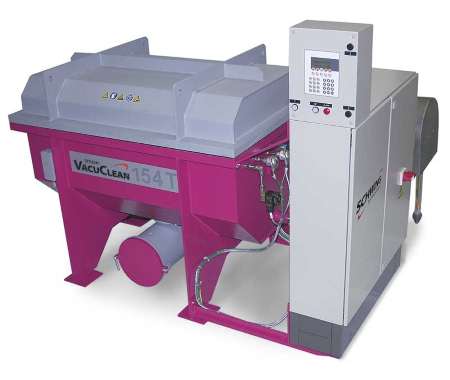 VacuClean
(Vacuum Pyrolysis System)
The VacuClean vacuum pyrolysis system carries out thermal cleaning under low oxygen conditions. The low oxygen level prevents any burning of the polymer on the parts, which could result in damage of the metal structure. During pyrolysis, by-products such as carbon black and gases are produced, which are cleaned in a catalytic converter. The pyrolysis is followed by the second stage of thermal cleaning – oxidation – which completely removes any carbon residues. The integrated catalytic converter cleans any gases produced during pyrolysis and converts hydrocarbons into harmless carbon dioxide and vapour. The air and water coming out of the catalytic converter are completely clean; there is no pollution or foul-smelling water. The temperature inside the chamber can be controlled so that there is no thermal damage during pyrolysis.
Manufactured by: Schwing Technologies, Germany
FEATURES

BENEFITS

RESOURCES

GET A QUOTE
Fully automated cleaning process
Adjustable and slow heat-up
Precise temperature control
Perfect off-gas cleaning by catalytic converter
Free of carbon residues
Only electricity and water required
Easy and safe to operate
Gentle on material being cleaned
No risk of overheating or distortion
No risk of overheating or distortion
Eco-friendly; water discharged is clean
Perfect cleaning results
Low operating and maintenance costs
Your message was sent successfully. Thanks.